50 States of Voice [Part 1 of 5]
Exploring how voice tech and AI are being used across the United States
This is part 1 of 5 of 50 States of Voice, our five-part series exploring how voice and AI are being used across the United States.
Part 1 is free and available to all subscribers, while parts 2-5 are paywalled and available for paid subscribers. Consider becoming one, if you find all of this useful.
See the footer of this email for information on the Project Voice Advisory Group, the formal name for our services for companies needing help navigating the waters of voice/AI.
Project Voice: Catalyst is our consulting arm for companies already operating within the voice/AI space; information on that program is included as well.

There's no better way to illustrate how voice and AI have permeated our culture and society than to go across the United States, state by state, and share examples of how the technology has been explored, discussed, and utilized.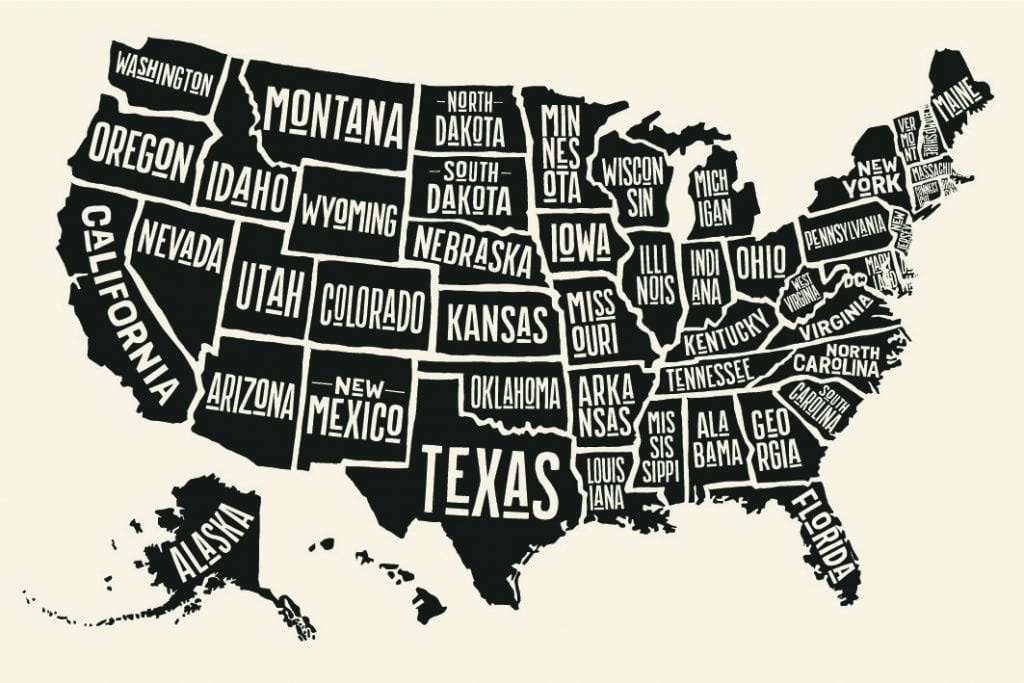 Alabama
Dibya Mukhopadhyay, Maliheh Shirvanian, and Nitesh Saxena, all of the University of Alabama at Birmingham, wrote All Your Voices Are Belong To Us: Stealing Voices to Fool Humans and Machines back in 2015.
A gaudy 40+ citations later, including multiple references in upcoming papers later this year and into 2021, and it's safe to say this paper detailing voice impersonation attacks has had a role in shaping the voice authentication market that was to come.
Alaska
Edward Forrest, Christina McDowell Marinchak, and Bogdan Hoanca, all of the University of Alaska (Anchorage), wrote Intelligent Assistants and the Internet of Things as the Next Marketing Landscape.
This paper, released just earlier this year, synthesizes numerous existing works across the voice and AI landscape and looks to be a useful, highly thorough analysis.
Arizona
Arizona is home to one of voice tech's leading advocates, and was where another got her Ph.D.
Mark Tucker has a long list of accomplishments in the voice/AI space, but none as important as the open source Speech Markdown project.
Joan Palmiter Bajorek earned her Ph.D at the University of Arizona, and went on to launch the influential and growing Women in Voice organization, among many other accomplishments.
Arkansas
Earlier this year, Arkansas launched its first AI and machine learning accelerator, consisting of a fascinating cohort of 14 companies.
Of course, Arkansas was also home to one of the earliest and most prominent tests of whether voice/AI data could be pursued as evidence in prosecuting criminal activity, a subplot which has obviously continued to grow since then.
California
California is home to Silicon Valley and consequently serves as a hub of international innovation, spurred on by the presence of numerous venture capitalists and investors.
Rather than focus on any particular company, I'll instead focus on the opportunity all of this affords California to lead the nation in conceiving and then executing AI-oriented laws that protect the public without inhibiting economic growth.
Brandie Nonnecke and Jessica Cussins Newman explored this very topic for an article written last year for the World Economic Forum, which is well worth reading today.
Colorado
One of the more interesting, yet under the radar, voice tech startups is based in Denver.
Handoff allows people to discover and then order alcoholic beverages, which then get delivered to their home within an hour.
Co-founders Miles MacKenzie and Tommy Riley have overseen the young company's significant growth, and now are poised to expand throughout the United States.
Connecticut
The University of Connecticut's OPIM Innovate initiative, which was launched by the school's Operations and Information Management (OPIM) department, was started to give students, faculty, and staff hands-on access to emerging technologies shaping our world.
Led by Jonathan Moore, OPIM Innovate has an entire curriculum devoted to the Internet of Things, which fully encompasses voice technology and conversational AI. The program features multiple tiers of progression and represents a unique and likely effective approach to acquainting newcomers to this technology.
Delaware
Nephrology Associates is the largest single-specialty provider caring for patients with kidney disease within the state of Delaware, and is also home of the state's first kidney transplant program.
Just in the last week, they announced adoption of Saykara's voice AI technology in a press release which also contained this paragraph, which while promotional, illustrates one of the most important use cases in applying voice/AI to healthcare:
"The practice of medicine is plagued by onerous documentation requirements that have no benefit to physicians. Most of the data we enter to the electronic health record serves no useful purpose in terms of care delivery, it's there solely for insurance billing, public reporting and regulatory mandates," says Dr. Prayus Tailor, an attending nephrologist at Nephrology Associates, P.A. "I am seeing colleagues seriously consider retiring early or quitting and taking a different direction with their careers. We need creative solutions like the AI technology from Saykara to reverse course. I can tell you firsthand, my quality of life is so much better since I starting using Saykara."
Florida
Two voice/AI stories in Florida I'll mention here:
1) FSU's Florida Center for Reading Research (FCRR) selected the well-known Irish voice/AI startup SoapBox Labs to collaborate on finding new ways to measure literacy in children, for the purpose of then creating new ways to teach children how to read.
Voicebot wrote a great article about this here.
2) One of the emerging success stories within the intersection of voice tech and healthcare is Florida's own Constant Companion.
Bringing voice to healthcare requires an often prohibitive synthesis of technological vision, tactical execution, and importantly, a tireless ability to navigate numerous and massive regulatory obstacles.
Constant Companion has pieced together a winning strategy and has quietly amassed far greater traction than many watching this emerging sector realize. Watch for them to bust out in a big way in 2021.
Georgia
Georgia is home to a pioneer at the forefront of applying voice and AI to mental health - Dr. Yared Alemu of Atlanta.
Having received his Ph.D at Auburn (War Eagle!), Dr. Alemu went on to found TQIntelligence, a company whose technology aligns voice/AI with the needs of mental health professionals to better measure severity of mental health issues, all while providing practitioners with smart workflows and superior, AI-driven tools that help facilitate better outcomes for patients.
Parts 2-5 of 50 States of Voice will tackle the rest of the United States of America - each part will contain 10 states, all listed in alphabetical order. These next 4 parts will be available only to paid subscribers - click here to subscribe now:
---
---
Over 20,000 executives and technologists wake up to This Week In Voice VIP. Join them.
---
The Project Voice Advisory Group assists companies looking to add conversational AI core competency within a twelve-month period of time, reducing cost while supporting growth. We're the map and the compass, helping you navigate what can be tricky and complicated waters. We're working with multiple Fortune 1000 companies already in this capacity - reach out if interested.
Project Voice: Catalyst assists companies already operating in the voice/AI space, often as a main line of business, to generate marketing and business development wins. Reach out if interested in this as well.
---
This Week In Voice, Season 5, premieres Thursday October 15, featuring Daniela Braga (CEO, DefinedCrowd), Nils Lenke (VP Apps, Cerence), and Derek Roberti (VP Technology, North America, Cognigy). Will be a great way to kick off the new season.

Two free webinars coming up, both of which I will moderate and both are presented by DefinedCrowd (featuring a number of our other friends!) - click banners to register.


Register for Project Voice: Coast to Coast, our upcoming 34-city US roadshow leading up to Project Voice 2021, using any of the links below for our initial dates: